Formor Gov. Yari, arrested, quzzies for Six hours by Nigerian police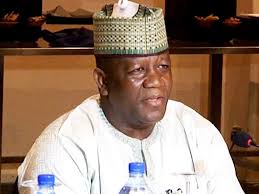 Following his unguarded utterances full of incitement and threat to peace in Zamfara State, former Governor Abdulazeez Yari was yesterday, arrested and quizzed by the Nigeria Police in Abuja for six hours.
An Impeccable source who spoke to our correspondent in Abuja said the former Governor, who looked visibly rattled, was subjected to six hour query over his utterances which were reported by many online media, where he made inciting statements inimical to the peace attained in Zamfara State.
"Between 11 am and 5pm, the former Governor was brought to the Force headquarters and vigorously drilled over his reported utterances he made a few days back during a meeting held in his home village of Talata-Mafara in Zamfara State", our source revealed.
It would be recalled that the former Governor, following alleged desperate attempts to overtly subvert the road map to peace in the state, openly called his supporters to confront authorities in their lawful duties in the state.
Other offences by the former Governor as reported in the media included his alleged plan to sponsor proscribed vigilante groups in the state to attack Fulani settlements with the aim of breaching the hard earned peace in the state.